Club Leabhar an Chabháin - Johnston Central Library
Fáilte chuig Club Leabhar an Chabháin.
Sa lá atá inniu ann, tá iliomaid leabhar le léamh as Gaeilge agus tá éileamh maith orthu faoi  láthair. Is féidir leabhair a fháil atá scríofa ag údair an lae inniu cosúil le Tadhg Mac Dhonnagáin, Réaltán Ní Leannáin, Anna Heussaff, Aindrias Ó Cathasaigh,  Proinsias Mac a' Bhaird, Pádraic Breathnach, Pól Ó Muirí, Ré Ó Laighléis, Liam Mac Cóil, agus Áine Nic Ghlinn. An gcuimhin leat leabhair cáiliúla mar Dúil le Liam Ó Flaithearta, Scothséalta le Pádraic Ó Conaire, Peig le Peig Sayers, Dialann Deoraí le Dónall Mac Amhlaigh agus A Thig Ná Thit Orm le Maidhc Dainín Ó Sé?
I saol gnóthach an lae inniu, tá sé deacair am a fháil chun leabhar a léamh ach tugann Club Leabhar seans d'achan duine a bhfuil suim acu sa Ghaeilge agus sa léithoireacht a scileanna teangan a fheabhsú agus a chur chun cinn. Léitear sleachta as na leabhair agus pléitear tuairimí na léitheoirí i ndóigh shuaimhneach shimplí nach gcuireann stró ar éinne.
Buaileann baill de Chlub Leabhar le chéile sa leabharlann ar an gcéad Déardaoin de gach mí, ach amháin i Mí Iúil agus i Mí Lúnasa. Maireann an seisiún ó 1.00i.n. go 2.00i.n. Mar sin, buail linn agus bain sult as an gcomhluadar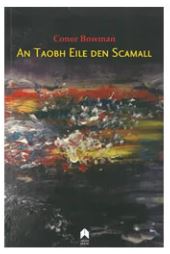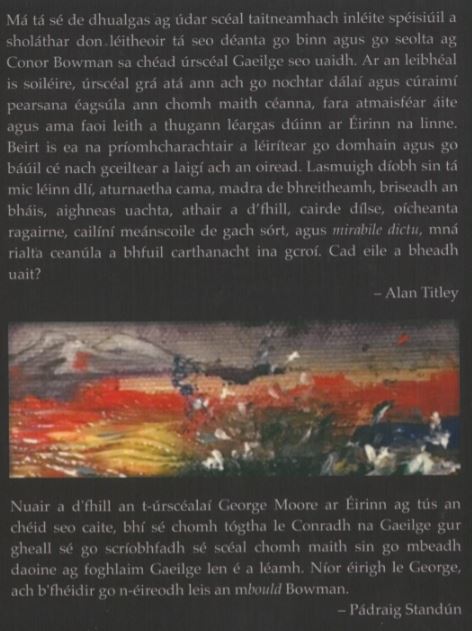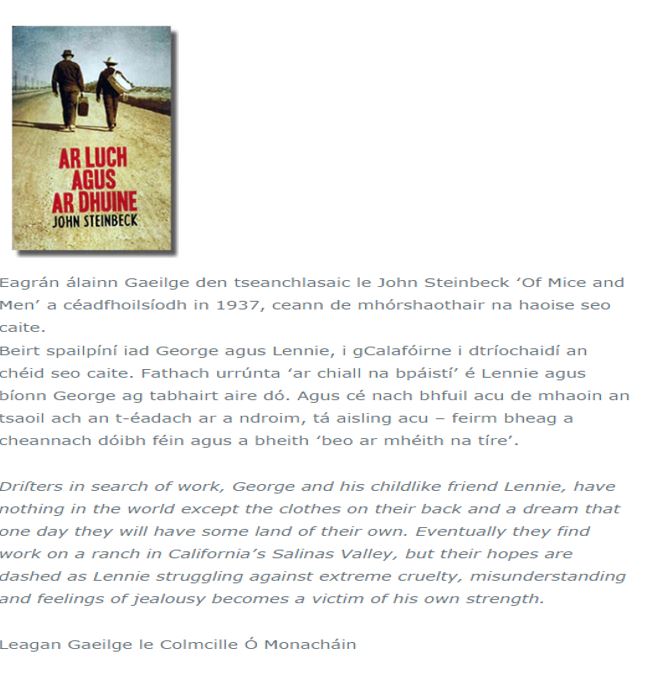 Feirm na nAinmhithe: George Orwell, Aindrias Ó Cathasaigh a d'aistrigh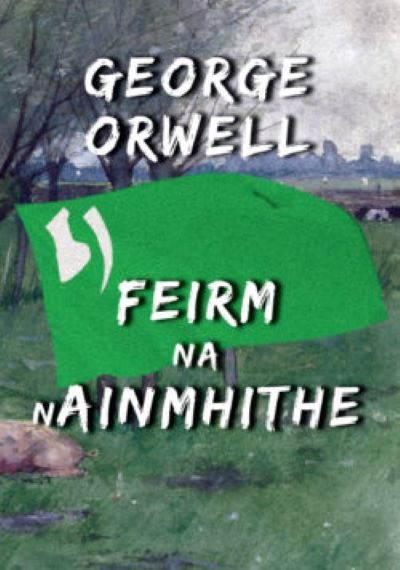 Tá na hainmhithe ar Fheirm an Mhainéir ag fulaingt le fada faoi thíorántacht an fheirmeora Ó Ceallaigh. Tá súil acu le saol eile, áfach, an fheirm a bheith faoi cheannas na n-ainmhithe féin, saor ó smacht na ndaoine. Éiríonn siad amach, cuireann siad an feirmeoir chun bóthair, agus glacann siad seilbh ar an bhfeirm. Feirm na nAinmhithe a thugtar uirthi anois, gach ainmhí comhionann agus ag obair le chéile. An féidir leo an aisling a choinneáil beo? Nó an bhfuil rud eile ar fad ar intinn ag na muca, b'fhéidir…?
Tá taitneamh á bhaint le blianta fada as scéal iontach George Orwell faoi réabhlóid na n-ainmhithe, agus ceachtanna le baint as maidir le réabhlóidí eile. Anois tá Feirm na nAinmhithe le léamh i nGaeilge álainn anseo. Tá scríbhinní le Orwell faoi chúlra an leabhair le fáil mar aguisín, chomh maith le hiarfhocal ag an aistritheoir Aindrias Ó Cathasaigh a fhiosraíonn polaitíocht an scéil.
Animal Farm translated to Irish.
Madame Lazare: Tadhg Mac Dhonnagáin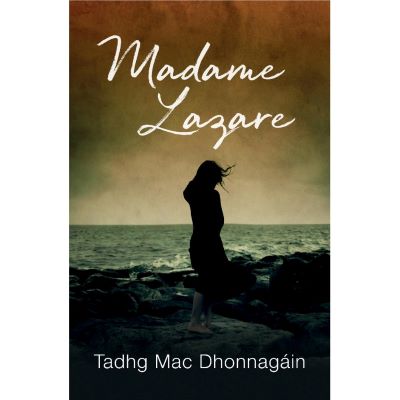 Ó bhí sí ina páiste óg, tá Levana bródúil as a dúchas Giúdach agus as na mná láidre a chuaigh roimpi. Duine acu sin í Hana
Lazare, seanmháthair Levana, a theith ina cailín óg di óna tír dhúchais i dtuaisceart na hEorpa, an t-aon duine amháin dá
muintir a tháinig slán ó shlad an Shoah. Ach nuair a thagann mearbhall intinne ar Hana i ndeireadh a saoil,
sceitheann blúirí eolais óna béal a fhágann Levana trína chéile. Seoltar an bhean óg ar aistear a thugann uirthi gach rud a dúirt a seanmháthair riamh léi a cheistiú. De réir mar a ghluaiseann an scéal ó Pháras go dtí an Bhruiséil go hiarthar na hÉireann, druideann Levana le fíorscéal a seanmháthar agus leis an tubaiste ba chúis leis an saol rúnda atá caite ag Madame Lazare.
An tIriseoir : Michelle Nic Pháidín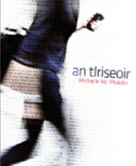 Foréigean baile, saol scriosta, pósadh cliste. Éalaíonn Bríd ó Ghaoth Dobhair le dul i mbun iriseoireachta i mBaile Átha Cliath. Iriseoir díograiseach, ábalta agus cumasach í, a mhúchann na cuimhní cráite le tréan oibre. Titeann saol Bhríd as a chéile agus í ag fiosrú scéil ar a fód dúchais nuair a aithníonn sí go bhfuil a mac féin ina chroílar.
Seacht mBua an Éirí Amach: Pádraic Ó Conaire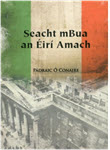 D'athraigh Éirí Amach na Cásca saol na hÉireann. Spreag sé na scríbhneoirí chomh maith le cách. Ba é ceiliú®adh Shean-Phádraic ar bhliain na glóire Seacht mBua an Éirí Amach, seacht scéal faoi dhaoine ar thug an tÉirí Amach casadh buan ina saol. Tá cuid den scríbhneoireacht is fearr dá ndearna Sean-Phádraic sa leabhar seo, octhú bua an Éirí Amach dar le Seosamh Mac Grianna.
Scáil an Phríosúin: Anna Heussaff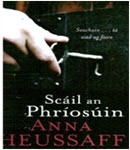 Seo an tríú húrscéal bleachtaireachta do dhaoine fásta le Anna Heussaff. Dhá dhúnmharú sa chillín céanna i bPríosún Chill Mhaighneann i mBaile Átha Cliath, ceann acu sa lá atá inniu ann agus an ceann eile sa 19ú haois. Cén ceangal dáiríre atá eatarthu?
This is the third crime novel for adults by Anna Heussaff. Two murders have taken place in the same cell in Kilmainham Gaol, one in the present day and the other in the 19th century. But what's the real connection between these crimes?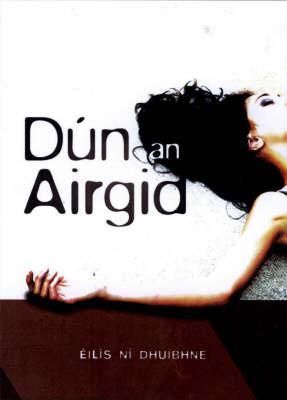 Dún an Airgid: Éilís Ní Dhuibhne
Is aoibhinn an áit é Dún an Airgid - baile nua foirfe agus daoine deasa lonnaithe ann. Útóipe nua-aoiseach. Ach lá amháin téann an leabharlannaí Laoise Ní Bhroin ar iarraidh.
An bhfuil dúnmharfóir srathach i gceist? Céard a bhí faoi cheilt ag Laoise? Nochtann Éilís Ní Dhuibhne ealaín agus rachmas sa chúlra - agus an nathair nimhe i bhfolach i bParthas.
Modern but tranquil, Dún an Airgid is the perfect town. A 21st century Utopia. Until one day librarian Laoise Ní Bhroin vanishes from sight. Inspector Máirtín Ó Flaithearta is sure she has been murdered. Then new evidence comes to light.
Is there a serial killer on the loose? What was Laoise's dark secret? Taking us into a corrupt world of art and money, Éilís Ní Dhuibhne reveals the serpent lurking in Paradise.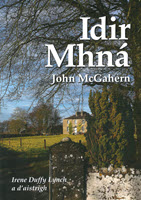 Idir Mhná: John McGahern a scríobh Irene Duffy Lynch a d'aistrigh
Fear é Mícheál Ó Móránaigh atá sáinithe ag géar-chéim shiceolaíocht na clainne atá faoina údarás bhagrach agus idé-eolaíocht na linne sa ról patrarcach sin, ról a ghineann fuath do mhná agus foréigin go smior ann. Fear rúnda agus iar-cheannaire le Óglaigh na hÉireann a bhí ábalta an bua a fháil ar na Dúchrónaigh. Seo leagan Gaeilge de Amongst Women le John McGahern atá aistrithe go cruinn ag Irene Duffy Lynch. Idir Mhná, the translation into Irish by Irene Duffy Lynch of Amongst Women by John McGahern.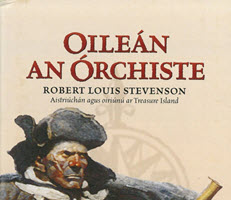 Oileán an Órchiste
Tá an t-úrscéal Treasure Island le Robert Louis Stevenson ar cheann de na húrscéalta eachtraíochta is mó cáil riamh. Scéal scleondrach atmaisféarach é seo faoi fhoghlaithe mara ar an bhfarraige mhór, faoi mhapa órchiste, agus faoi Jim Hawkins, buachaill sna déaga a chuireann chun farraige agus é meallta ag draíocht an bhithiúnaigh Long John Silver.
San aistriúchán breá seo Oileán an Órchiste le Darach Ó Scolaí, tá an t-úrscéal seo a scríobhadh in 1883 curtha in oiriúint do léitheoirí an lae inniu, agus maisithe le pictiúir ó eagrán 1911 den leabhar le N.C. Wyeth.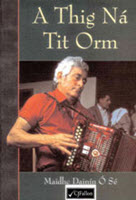 A Thig Ná Tit Orm: Maidhc Dainín Ó Sé
Is leabhar éadrom spraíúil é A Thig Ná Tit Orm, dírbheathaisnéis an cheoltóra Maidhc Dainín Ó Sé, atá lán scéalta a shaoil, go háirithe scéalta ó na caogaidí agus na seascaidí. Tugann an saothar léargas dúinn ar a shaol féin agus ar an saol i gcoitinne ag an am. Mar aon le go leor daoine eile, chuaigh Maidhc ar imirce – go dtí Londan ar dtús, áit a raibh sé ag obair ar feadh bliana, agus i ndiaidh sin go Chicago, áit ar fhan sé ar feadh deich mbliana. Phós sé a bhean chéile Caitlín in Chicago agus rugadh beirt pháistí dá gcuid ansin. Theastaigh uatha a bpáistí a thógáil in Éirinn, áfach. D'fhill siad ar Éirinn i 1969, agus chuir siad fúthu i gCarrachán. Dar le Maidhc, ba é sin an cinneadh is fearr dá shaol.
Tá an dírbheathaisnéis A Thig Ná Tit Orm ar shiollabas Gaeilge na hArdteistiméireachta.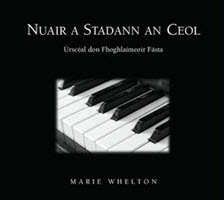 Nuair a Stadann an Ceol: Marie Whelton
Tár éis di í féin a chur tríd an ollscoil agus cúpla bliain a chaitheamh ag obair, tá Róisín ar ais i mbun staidéir agus í ag iarraidh cáilíocht sa bhunmhúinteoireacht a bhaint amach an uair seo. Tá cairde nua aici agus tá go leor ceoil á sheinm aici sa Choláiste Oideachais, ach tá uirthi dul i ngleic le deacrachtaí móra pearsanta freisin. Is scéal é seo faoi shaol casta na mná óig; faoi chúrsaí clainne, faoi chairdeas agus faoin gceol. Don fhoghlaimeoir fásta. 
Aiséirí le Alex Hijmans
Úrscéal faoin idéalachas, dílseacht, grá... agus caife.
Is saighdiúr de chuid na cúise í Rebekka Vogelzang, bean óg as an Ísiltír a d'fhoghlaim Gaeilge agus í ag obair i dteach caife Gaelach i gcathair na Gaillimhe. Cuireann sí a croí agus a hanam isteach i ngach uile bhonnóg dá mbácáileann sí agus i ngach uile chupán espresso dá ndéanann sí, toisc go dtuigeann sí go bhfuil slánú na teanga ag brath air. Ach cé a shlánóidh Rebekka?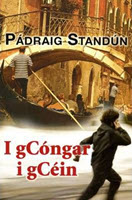 I gCóngar i gCéin le Pádraig Standún
An Veinéis, Péarla na Meánmhara. Tá ealaíontóir óg, Adrienne, tagtha go dtí an chathair ársa rómánsúil seo tar éis dá pósadh cliseadh, í a g súil le tús a chur le saol nua. Casann sí ar Giorgio, tiománaí tacsaí uisce, agus éiríonn siad ceanúil ar a chéile. Ach tá rún ag Giorgio. Ní lodálach é ach Éireannach. Agus ní Giorgio an t-ainm atá ar chor ar bith. Fear é a bhí páirteach sa nGluaiseacht Phoblachtánach aimsir na drioblóidí agus atá in ainm is a bheith marbh. Agus tá coirpigh, chomh maith lena chuid iarchomrádaithe, ar a thóir.
Roinnt leabhair ó Anna Heussaff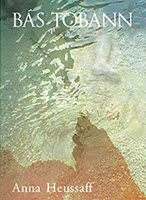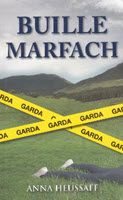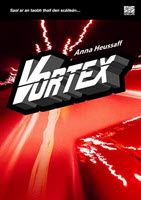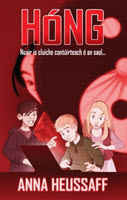 Rugadh Anna Heussaff in 1957 agus tógadh le Gaeilge í i mBaile Átha Cliath, áit a bhfuil cónaí uirthi inniu lena fear céile, Simon Brooke, agus a mac, Conall. Foilsíodh a tráchtas M.A. faoin teideal Filí agus Cléir san Ochtú hAois Déag. Chaith sí trí bliana i Sasana ag obair le daoine gan dídean, agus fiche bliain sna meáin chumarsáide in Éirinn, mar thaighdeoir agus mar léiritheoir/stiúrthóir le raidió agus teilifís RTÉ go háirithe. Bíonn babhtaí oibre ar siúl aici ó am go chéile mar aon leis an scríbhneoireacht: ina measc, dreasanna teagaisc ar an tríú leibhéal agus le foghlaimeoirí fásta, chomh maith le ceardlanna scoile faoi scáth Scéim na scríbhneoirí sna scoileanna a reáchtálann Éigse Éireann. In 2010 agus 2011, d'fhoilsigh Futa Fata, i gcomhar le Dorling Kindersley, trí leabhar fhíriciúla do dhaoine óga a d'aistrigh sí ó Bhéarla: Seo í mo Scoil, Leabhar Mór na hEalaíne agus Leabhar Mór an Cheoil.
Salann Garbh le Steve Joe Ó Neachtain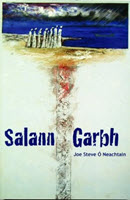 Scríbhneoir, aisteoir, drámadóir, agus craoltóir is ea Joe Steve Ó Neachtain. Rugadh é sa Spidéal, Co. na Gaillimhe sa bhliain 1942. Tá sé ag scríobh go cruthaitheach ó 1969. Is é an gearrscéal is mó a shaothraíonn sé agus foilsíodh go leor acu ar irisí éagsúla. Tá amhráin scríofa freisin aige. Tá go leor duaiseanna buaite aige i gComórtais an Oireachtais. Bronnadh Gradam Jacobs ar a shaothar sraithdhrámaíochta Baile an Droichid, a chraoladh ar Raidió na Gaeltachta ó 1985 go 1995. Bronnadh gradam litríochta Chló Iar-Chonnachta ar Clochmhóin i 1998 agus ainmníodh an saothar céanna do Dhuais Litríochta The Irish Times i 1999. Bronnadh gradam litríochta Chló Iar-Chonnachta arís air don úrscéal Lámh Láidir in 2002. 
An Scéal - Tugann imeachtaí beaga áitiúla léargas ar cheisteanna móra sóisialta agus moráltachta, mar fhoréigean teaghlaigh, creideamh, dualgas teaghlaigh agus úinéireacht talún, sa chnuasach gearrscéalta seo le Joe Steve Ó Neachtain. Tá blas an dúchais ar an saothar seo agus téann sé i ngleic le gnéithe dorcha, pearsanta an tsaoil go cliste.
Thank you for contacting Cavan County Council, we will review and deal with your query and contact you if we require further information.