Fr Thomas A Finlay, SJ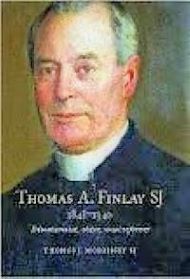 Thomas Finlay was born on 6 July 1848 at Lanesborough, Co Roscommon. He was son of William Finlay an engineer from Fifeshire in Scotland and Maria Magan from Kilashee, Co Longford. He was educated in Kilmore Academy, entered the Society of Jesus order in St.Achuel, near Amiens, France in 1866. He went to the Gregorian University in Rome in 1869 and then to Maria Laach Abbey in Germany where he was trained in modern scientific methods and was impressed by the new agricultural policy of the Prussian government.
He returned to Ireland and taught French and German at Crescent College Limerick from 1872 until 1878. He returned to his clerical studies in St Beuno's Wales and was ordained in 1881. Later that year he taught in St Stanislaus College near Tullamore before becoming rector of Belvedere College in 1882 and remaining there until 1887. He was also appointed a Fellow of the Royal University of Ireland. In 1883 he and his brother Peer were appointed joint professors of philosophy at University College Dublin. He also occupied the chairs of philosophy (1883-1900) and political economy (1900-1930). As well as teaching, Finlay was a prolific writer and translated articles from German on philosophy and Stoeckl's History of Philosophy. He founded and edited the 'Lyceum' magazine (1889-1894) and the 'New Ireland Review' (1894-1911) which was succeeded by 'Studies' in 1912.
His involvement in the Irish Co–Operative movement made him widely known throughout Ireland. A meeting was arranged between Horace Plunkett and Finlay in 1890 and Plunkett was greatly impressed with Finlay's knowledge of continental farming practices, rural Ireland and his commitment to the whole cooperative idea. The friendship between Finlay and Plunkett lasted for forty years until Plunkett died. Plunkett described Finlay as "the kindest and most loyal friend". Finlay spoke with Arthur Lough at Drummully House in September 1896 at the meeting which led to the formation of Killeshandra creamery. As well as his teaching in the Jesuit schools and at University College Dublin, Finlay was a commissioner for intermediate education and was active in establishing and administering a system of technical education at the start of the 20th century.
He was a member of the senate of the National University of Ireland, of the governing body of UCD and was chairman of the trustees of the National library of Ireland from 1909-1938. It was said that in forty seven years he never missed a lecture, broke an engagement or was late for a meeting. In UCD an annual Finlay lecture was held on an economic theme and the first lecture was delivered by John Maynard Keynes. Finlay was described by W.E. H Lecky as the most universally respected man in Ireland. Tom Finlay died on 8 January 1940 in his ninety–first year.
Works
| | |
| --- | --- |
| Title | Year |
| The chances of war | 1877 |
| With the army of O'Neill | 1877 |
As Editor
| | |
| --- | --- |
| Title | Year |
| Irish Homestead |   |
| Lyceum magazine | 1889-1894 |
| New Ireland Review | 1894-1911 |
| Sixth School Reader |   |
Thank you for contacting Cavan County Council, we will review and deal with your query and contact you if we require further information.