Thomas J. Barron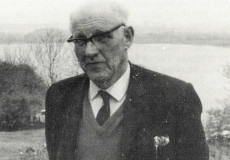 Thomas James (Tom) Barron was born on 13 November 1903 to John James Barron and Margaret White. The family home was at Cornaveagh in Knockbride parish. Tom had two brothers and a sister. Tom had a lifelong interest in local history and archaeology and he said that this was nurtured by the family having a stone carved horse which the children in his family played with.
Tom was asked to take up the position of trainee teacher (monitor) at Garvagh National school in the early 1930s and he obtained a permanent position in Knockbride National school in 1935. Tom was meticulous in all his work and took the collection and documenting of folklore for the 1937 National Folklore Collection very seriously. In his report to the commission he stated 'great pains were taken to obtain the most authoritative versions of the different subjects'.
Tom Barron had a lifelong interest in St Brigid and he conducted much research into the famous tricephallic (three faced) stone head known as the Corleck Head. The stone head was originally discovered in the nineteenth century at a quarry on Corleck hill in Knockbride parish. The stone was discovered on land belonging to H Gibson Hall and loaned to the National Museum. Tom continued to carry out excavations in the Knockbride area and located the two faced Corraghy head and also a rams head in stone.
In August 1944, he married Sarah Elizabeth Mahood from Canningstown, County Cavan, a teacher at Latsey National school in Knockbride parish. He became principal of the Model school Bailieborough in 1950 and continued his research in Knockbride parish. Barron and his friend Patrick McBreen excavated crannogs on lakes in the area and unearthed quern stones and a cannon ball from the 1641 rebellion.
Cumann Seanchais Bhreifne was founded in January 1956 and Tom Barron was a founder member. He contributed articles to the society's journal 'Breifne' and served as president from 1989-1992.
In September 1971 the 400th anniversary of William Bedell's birth was celebrated with a function in the Farnham hotel and for the occasion Tom Barron set up a display of antiquarian books.
When he retired from teaching he continued his research into local history and undertook journeys to Norway, Greece, Italy, and Egypt with his wife to visit museums and archaeological sites there. His wife died in 1978 and Tom spent his final years in Virginia, County Cavan. He was often interviewed on radio and television for his expert opinion on archaeological matters. He died in March 1992.
Works
| | |
| --- | --- |
| Title | Year |
| The prehistory of the Breifne region. Breifne | 1958 |
| Rev. Alexander McWhidd – a 17th century minister Breifne | 1959 |
| Stone Axehead from County Cavan Breifne | 1961 |
| Anne Jane Carlile (1775-1864) Breifne | 1963 |
| A 1798 Pikehead from Bailieborough Breifne | 1966 |
| Bridie M Smith-Brady's Contribution to the Anglo-Celt, 1927-1936 / Compiled by Thomas J. Barron and Sara Cullen | 1975 |
| Stair Nuadat find Feinim and Sliabh nDhe Breifne | 1976 |
| A Presbyterian exodus from County Longford in 1729. Breifne | 1977-1978 |
| Laragh Parish. Heart of Breifne | 1978 |
| The Molly Maguires Heart of Breifne | 1979 |
| The exit of protestant settlers from Co Cavan in 1642 .Heart of Breifne | 1980 |
| Bailieborough - and echoes from the year of the French Heart of Breifne | 1980 |
| Loughlanleagh Mountains and Foothills, History Tradition & Myth | 1980 |
| Alexander McWhidd c 1610 - c 1690. Heart of Breifne | 1981 |
| Emigration from Cavan in the 19th Century. Heart of Breifne | 1982 |
| Emigration from Co Cavan in the Nineteenth Century. Heart of Breifne | 1983 |
| Saint Patrick's relationship with Cormac, The First Bishop to sit in Patrick's Chair | 1983 |
| Memoir of Owen Peter Mangan, 1838-1924. Heart of Breifne | 1984 |
| Memoir of Owen Peter Mangan, 1838-1924. Heart of Breifne | 1985 |
| An Early map of County Cavan. Heart of Breifne | 1985 |
| The Tomregan carving Heart of Breifne | 1985 |
| A Drumgoon story of 1798. Heart of Breifne | 1985 |
| A decorated stone from a cairn on Beannu (Banagher) mountain in Denn Parish. Heart of Breifne | 1985 |
| An old medal. Heart of Breifne | 1985 |
Additional reading
Gentleman & Scholar : Thomas James Barron, 1903-1992, by Smyth, Jonathan A.
Thank you for contacting Cavan County Council, we will review and deal with your query and contact you if we require further information.