Places in Cavan
Places in Cavan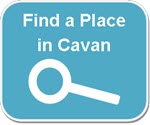 The Placenames Database of Ireland, also known as logainm.ie, is a database and archive of place names in Ireland. It was created by Fiontar, Dublin City University in collaboration with the Placenames Branch of the Department of Tourism, Culture, Arts, Gaeltacht, Sport and Media.
The Kingdom of Breifne
The ancient kingdom of Breifne extended from the north-west of the present county of Meath to Donegal Bay. West Breifne was ruled by the O'Rourke's while east Breifne was under the O'Reilly rule with the river Grainne, now the Woodford River, being the boundary line separating East from West. Changes in 1584 by Lord Deputy Perrott and further changes in 1608 shaped the County as we know it today.
County Cavan in pre Elizabethan times was known as the kingdom of East Breifne. East Breifne contained seven subdivisions called tuaths and a subdivision of a tuath was a ballybetagh. A ballybetagh was a territorial unit controlled by an Irish sept (ruling family) usually containing around 16 town lands. Ballybetaghs could be further subdivided into units consisting of four, eight and twelve town lands. A ballybetagh was considered capable of supporting 300 cows and contained 960 acres.
Town lands
A Town Land or baile is the smallest administrative land unit in Ireland and there are 61,402 covering the whole island. Town lands vary in size from one acre to 7,000 acres but the average town land size is 340 acres.  The term  town land is derived from the Old English word 'tun' meaning enclosure. Throughout Ulster a  town land  was  known as a Ballyboe  which meant  cow land. The term baile which is anglicised to bally is the most dominant element used in Irish town land names. Today the word Baile means town or urban settlement but it's precise meaning in ancient Ireland is unclear as towns had no place in Gaelic Ireland at this time. The Norman word 'Bailey' means settlement and may have been a significant influence.
In County Cavan the area of a town land was known as a 'Poll' or 'Pole' and in counties  Fermanagh and Monaghan it was known as a 'Tate'. These names are of English origin. More than half the townlands in Ulster with the prefix 'pol' are situated in Cavan and almost all town lands with the prefix 'tat' are in the Diocese of Clogher (Fermanagh, Monaghan and parts of Tyrone).
A poll or pole usually contained 60 acres and could be divided into gallons and a gallon was subdivided into 2 pottles so 4 pottles was the equivalent of 1 pole. Land measurement was divided into the amount of land  that could feed or carry a cow or cows.
Further information can be found at Cavan Townlands
Parishes
Within our county there are 36 civil parishes. This land division was used in most national surveys in the 19th Century. The parish is the smallest unit in the administrative structure used by both the Catholic Church & the Church of Ireland but differs from the civil parish structure. Discover more on the websites below.

The Diocese of Kilmore
The Diocese of Meath
The Diocese of Ardagh and Clonmacnois
The Kilmore Anglican Diocese 
The Meath Anglican Diocese
The Poor Relief Act of 1838 divided Cavan into districts or "unions". It was envisaged that the local taxable inhabitants were to be financially responsible for all paupers in the area. In 1898 the Poor Law Union was adopted as the basic administrative division in place of the civil parish and barony.
Baronies
Cavan is divided into 8 baronies. This county map illustrates the barony and its geographical location.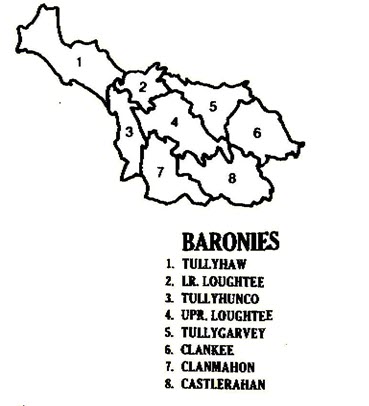 Other early Land Divisions
Other units of land division are used throughout Ireland including Capell lands in Tipperary and Plowlands in Kilkenny. A capell land contained around 20 English acres. In the province of Connacht  the terms'quarters' and 'cartrons' were used. A Quarter contained 120 acres, a half Quarter was 60 acres, a  Cartron around 30 acres and a Sessiagh 20 acres. Cartron is preserved in town land names in Connacht such as Carrownaseer and Carrowkeel  and Sessiagh in names such as Shesia and Sheshodonell. There  is one instance of the town land Gneeve in Ireland and this is in the parish of Kilbride in County Cavan, on the southern tip of the county on the border with Meath and it measures 222 acres.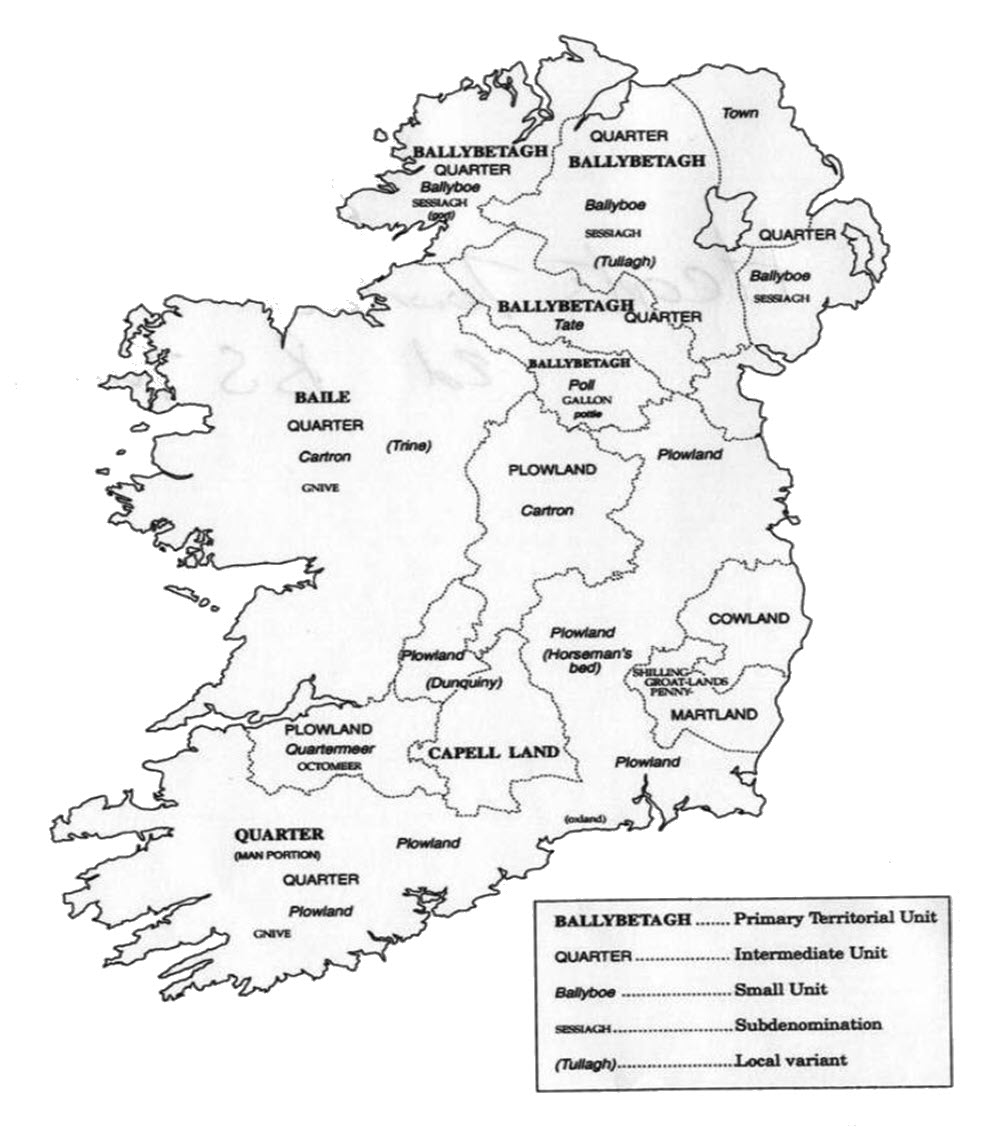 Thomas Larcom, the first director of the Ordnance Survey of  Ireland made a study of the ancient land divisions and summarised them thus.
10 acres = 1 Gneeve
2 Gneeves = 1 Sessiagh
3 Sessiaghs = 1 Tate or Ballyboe
2 Ballyboes = 1 Ploughland or Carrow
4 Ploughlands = 1 Ballybetagh
30  Ballybetaghs  = 1 Barony
Thank you for contacting Cavan County Council, we will review and deal with your query and contact you if we require further information.