Useful Records
Useful Records
Church Registers                                                                    
 
Due to the destruction of Census material in 1922, Church records are a very important source for family research.
Church of Ireland: Officially, retention of these records became law in 1750; however, some date back to 1619. The Church of Ireland records conform to civil parish boundaries. Records can be retrieved in the Public Records Office or in some cases, in the parish Church. A project to digitise these records is underway at Anglican Record Project.
Presbyterian Church: Records available date back to 1819 and in most cases Church authorities have retained these records.
Roman Catholic Church: In most cases, records began in 1820; however, there are some dating back to 1760. Both baptisimal and marriage records were retained in local Churches' however death records were not. Catholic parish registers are all held on microfilm in the National Library of Ireland. 
Cavan Genealogy Centre hold records dating back to 1702 for the Church of Ireland denominations and 1752 for the Catholic Church in Cavan. Their main database is accessible from rootsIreland.ie.  With over 18 million records online, rootsirelandenables researchers to gain access to all the relevant data in one place.
 
Topography

Lewis Topographical Dictionary and atlas: Samuel Lewis first published his topographical dictionary of Ireland in 1837. This guide provides detailed information about villages and towns in Ireland prior to the 'An Gorta Mor' (The Great Famine).
Pigots Directory: Pigot and Co.'s City of Dublin and Hibernian Provincial Directory of 1824 is arranged by province and includes over 220 urban centres.
Slaters Directory: This directory gives a detailed description of the Irish town or city, post office information and shows the names of nobility and gentry living in or close to the town. The traders of each town are arranged according to their trade. Slaters of 1846 and 1894 for County Cavan are available in our local studies collection.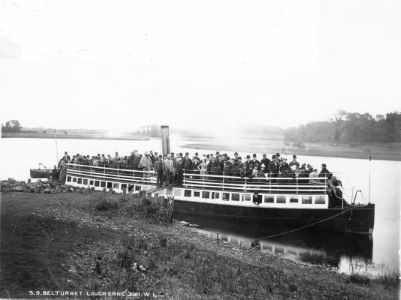 The Irish Emigration Database is a computerised collection of primary source documents on Irish emigration to North America (USA and Canada) in the 18th and 19th centuries. It contains a variety of original material including emigrant letters, newspaper articles, shipping advertisements, shipping news, passenger lists, official government reports, family papers, births deaths and marriages and extracts from books and periodicals. The Irish Emigration Database is accessible on the public computers in our full-time libraries. 
The objective of these volumes was to preserve the names of over 49,000 Irishmen who lost their lives fighting in the Great War, World War I, 1914-1918. The collection was compiled by The Committee of the Irish National War Memorial under the direction of the Earl of Ypres. It is the most complete memorial record known to exist and was published in 1923.

Grave stone Inscription

Gravestone inscriptions can be a very useful source of family history information. Gravestones can give birth, marriage, and death information, clues about occupation and family members buried in the same area. In some case, they can give more information than the parish burial register or civil certificate of death.
Thank you for contacting Cavan County Council, we will review and deal with your query and contact you if we require further information.