The Belturbet Corporation
Archives of Belturbet Corporation
The extant archives of Belturbet Corporationdate from the mid-seventeenth century to the nineteenth century.
Documents with codes BC/1-2 and BC/5 were deposited at the Public Record of Ireland by Father Owen Francis Traynor,
parish priest, Dromahair, County Leitrim, in September 1954. Documents with codes BC/3-4 were deposited there by
Father Traynor in October 1956. He had acquired them from Edward O'Reilly, a former Belturbet Town Clerk, who had
saved the records from near destruction during a 1940s wastepaper drive. The Public Record Office of Ireland was
amalgamated with the State Paper Office to form the National Archives in 1988. The National Archives returned the
archives of Belturbet Corporation to County Cavan in early 2006.
Related Files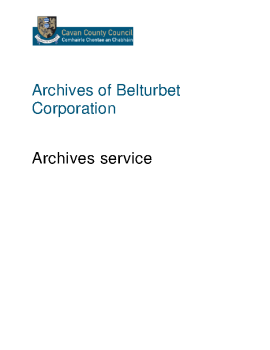 Thank you for contacting Cavan County Council, we will review and deal with your query and contact you if we require further information.